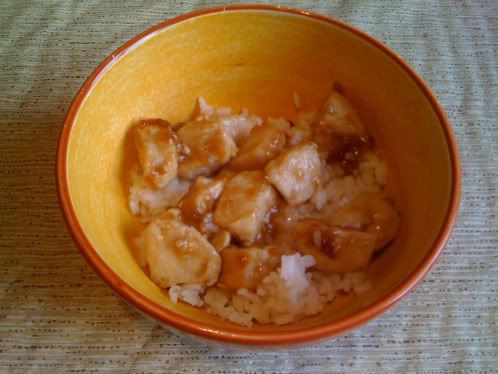 I have been making this recipe for so long that I can't even remember where I first saw it, and what it is actually called. But in our house, we call it Bourbon Chicken. No idea if that's even close to accurate but it works for us. It does require a lot of ingredients but it is easy to make and the kids love it (so important).

Ingredients:
3/4 c. chicken broth
2 T. cornstarch
2 T. sugar
2 T. soy sauce
1 T. white wine vinegar
1/2 t. ginger
2 t. peanut oil
2 garlic cloves
1/2 t. crushed red pepper (optional)
1 lb. cubed chicken

Directions:
Whisk together chicken broth, cornstarch, sugar, soy sauce, white wine vinegar, and ginger. Set aside.
In a frying pan, add peanut oil, garlic cloves, and red pepper. After the garlic cloves have browned, add the cubed chicken. Cook over medium heat for about 10-15 mins until browned.
Add the chicken broth mixture to the cooked chicken and adjust the heat to the low setting. Heat until the sauce has thickened. Serve over rice!
My Recommendations:
I always double the ingredients in the chicken broth mixture because my husband is a sauce hog. Also, I omit the red pepper because the kids can't handle spicy food just yet.