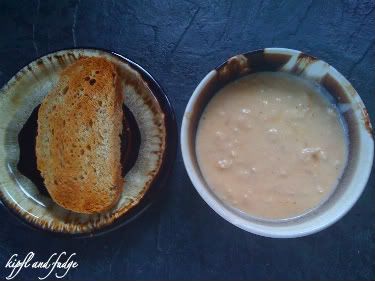 When I spotted
this recipe
at A Mommy's Blessings, I knew I would have to try it. One of Al's favorite things to eat is buffalo chicken (remember how he hoards the
buffalo chicken dip
?), so the soup would have to be popular as well. And it sure was. I'm fairly certain that there will be a rumble over the leftovers.
Ingredients:
6 c. milk
3 c. shredded chicken
3 cans cream of chicken
1-2 c. sour cream
1/2 c. hot sauce
1/2 t. garlic powder
1/2 t. onion powder
1/2 t. cayenne pepper
1-2 c. shredded cheese
Directions:
Add all ingredients to crock-pot and stir until combined. Cook on high for 1-2 hours.
My Recommendations:
I cut the recipe in half because we didn't have much milk left and we were still left with plenty of leftovers. Next time, however, we will not be cutting it in half!
I didn't have cayenne pepper so I subbed in chili powder, and also added a good amount of salt and pepper. Other than that, this recipe needs no tweaking, it's that good. It was perfect with some toasted honey wheat bread on the side for dipping.