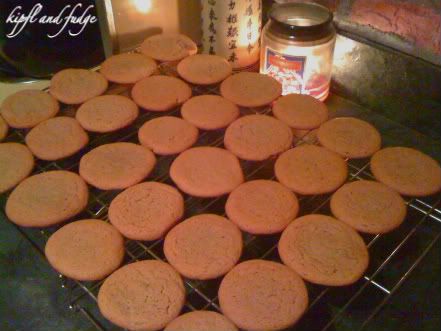 I'm a sucker for cookie exchanges. But after a particularly rough year where some participants packaged up store-bought cookies and saltines with jam (??), I haven't been as willing to participate. Instead, my mom and I exchange cookies - always a dozen of each cookie and the number of different cookies is always dependent on how productive we are (this year it was only six). I wanted to try a new cookie this year, and once I found this recipe on All Recipes, I knew I had to make it.
Unfortunately I had to make two batches because with the first batch I accidentally left the setting on "broil." Whoops. There were a few cookies that survived the big broil, and while I liked them (a lot), I wasn't over the moon. So for the second batch, I tweaked the recipe a bit based on some of the comments I read. The result: pure deliciousness.
Ingredients:
2 1/4 c. all-purpose flour
2 t. ground ginger
1 t. baking soda
3/4 t. ground cinnamon
1/2 t. ground cloves
1/4 t. salt
3/4 c. margarine, softened
1 c. and 2 T. white sugar, separated
1 egg
1 T. water (**I substituted orange juice and this really enhanced the flavor of the cookie**)
1/4 c. molasses
Directions:
Preheat over to 350 degrees. Sift together the flour, ginger, baking soda, cinnamon, cloves, and salt. Set aside.
In a large bowl, cream together the margarine and 1 c. sugar until light and fluffy. Beat in the egg, then stir in the water and molasses. Gradually stir the sifted ingredients into the molasses mixture. Shape dough into walnut sized balls, and then roll them in the remaining 2 T. of sugar. Place the cookies 2 inches apart onto an ungreased cookie sheet, and flatten slightly.
Bake for 8 to 10 minutes in the preheated oven. Allow cookies to cool on baking sheet for 5 minutes before removing to a wire rack to cool completely. Makes 24 cookies.
My Recommendations:
After all of the ingredients were mixed together and prior to shaping them into balls, I put the bowl of dough in the fridge for 45 mins. I had a very hard time shaping the dough with the first batch, and this extra step really made the difference.
I opted not to roll the cookies in the extra 2 T. of white sugar for the second batch. I preferred to have the flavor of the cookie stand alone and really didn't like the added sweetness.
I opted for smaller cookies and made 36. My rationalization is the smaller the cookie, the more you can eat!
These cookies truly are delicious and you should make them ASAP if for no other reason than they will make your house smell wonderful.